Since you all seemed to enjoy my last post, I thought I would do another one! (hush, this isn't because it's Sunday night and I was procrastinating writing a blog post and then ended up with no inspiration while it's already late, of course not)
The Gentlemen's Guide to Vice and Virtue by Mackenzi Lee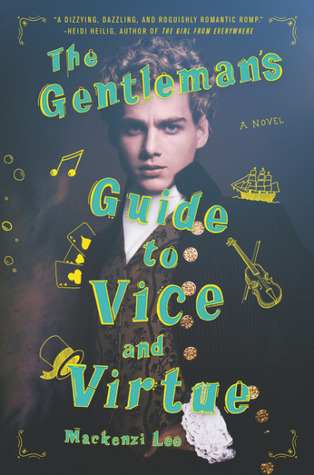 I have heard only amazing things about this book and Savannah recommended it to me so now I just have to read it! Unpopular opinion, but I don't actually like the cover… so I'm waiting for an ebook sale haha
Henry "Monty" Montague was born and bred to be a gentleman, but he was never one to be tamed. The finest boarding schools in England and the constant disapproval of his father haven't been able to curb any of his roguish passions—not for gambling halls, late nights spent with a bottle of spirits, or waking up in the arms of women or men.

But as Monty embarks on his Grand Tour of Europe, his quest for a life filled with pleasure and vice is in danger of coming to an end. Not only does his father expect him to take over the family's estate upon his return, but Monty is also nursing an impossible crush on his best friend and traveling companion, Percy.

Still it isn't in Monty's nature to give up. Even with his younger sister, Felicity, in tow, he vows to make this yearlong escapade one last hedonistic hurrah and flirt with Percy from Paris to Rome. But when one of Monty's reckless decisions turns their trip abroad into a harrowing manhunt that spans across Europe, it calls into question everything he knows, including his relationship with the boy he adores.
LGBT+ representation: bisexual, (aromantic?-)asexual
No More Heroes by Michelle Kan
This is an indie book I've been wanting to read for a long time! It has LGBT+ superheroes and it sounds quite amazing. I can't wait to read it next month during IndieAthon!
The peaceful nights are kept under the clandestine and watchful eye of young, gifted vigilantes the world over. But a sudden rash of vigilante deaths heralds the arrival of a new and unfamiliar enemy – one whose motive is as unclear as their identity. Someone or something seems determined to disturb the peace, and they're going straight for the watchmen to do it. In a city where those who are gifted make up their own rules, who will step forward when the threat of a swift end is real and there stands so little to gain?

No More Heroes is an urban fantasy action/adventure novel about young, would-be heroes who get more than they bargained for when they delve deeper into a world they never knew they were a part of. Featuring a diverse cast of players, discord, a mystery to be solved, plenty of literary action and high-stakes battles, No More Heroes is a story about self-belief and camaraderie, persistence in the face of trials, and what it means to be the best version of yourself.
LGBT+ representation: aromantic-asexual – genderfluid
The Apocalypse of Elena Mendoza by Shaun David Hutchinson
If you think "oh that book again", you've probably been following me a bit too closely because I think I've talked about this book so often lately! I have yet to find myself a copy but I'm so excited to read more Shaun David Hutchinson!
Sixteen-year-old Elena Mendoza is the product of a virgin birth.

This can be scientifically explained (it's called parthenogenesis), but what can't be explained is how Elena is able to heal Freddie, the girl she's had a crush on for years, from a gunshot wound in a Starbucks parking lot. Or why the boy who shot Freddie, David Combs, disappeared from the same parking lot minutes later after getting sucked up into the clouds. What also can't be explained are the talking girl on the front of a tampon box, or the reasons that David Combs shot Freddie in the first place.

As more unbelievable things occur, and Elena continues to perform miracles, the only remaining explanation is the least logical of all—that the world is actually coming to an end, and Elena is possibly the only one who can do something about it.
LGBT+ representation: bisexual (2x)- questioning/asexual
Ace of Shades by Amanda Foody
Have you not heard me scream about this book yet?? Well, with the number of times I've talked about Ace of Shades you'd think I would have read it yet haha. Sadly, I still haven't picked it up even though I own an ARC (blame Swetlana). This will be released in about two months and I CANNOT WAIT.
Welcome to the City of Sin, where casino families reign, gangs infest the streets…
and secrets hide in every shadow.

Enne Salta was raised as a proper young lady, and no lady would willingly visit New Reynes, the so-called City of Sin. But when her mother goes missing, Enne must leave her finishing school—and her reputation—behind to follow her mother's trail to the city where no one survives uncorrupted.

Frightened and alone, her only lead is a name: Levi Glaisyer. Unfortunately, Levi is not the gentleman she expected—he's a street lord and a con man. Levi is also only one payment away from cleaning up a rapidly unraveling investment scam, so he doesn't have time to investigate a woman leading a dangerous double life. Enne's offer of compensation, however, could be the solution to all his problems.

Their search for clues leads them through glamorous casinos, illicit cabarets and into the clutches of a ruthless mafia donna. As Enne unearths an impossible secret about her past, Levi's enemies catch up to them, ensnaring him in a vicious execution game where the players always lose. To save him, Enne will need to surrender herself to the city…

And she'll need to play.
LGBT+ representation: bisexual, gay
Are any of these on your TBR? Or have you read one or more of these perhaps? Any fantasy with queer rep I should read, since I found it hard to include LGBT+ fantasy? What LGBT+ books are on your tbr?