Wait. Before you get all excited, I'm not "back", just, you know, for one post probably. It's been a really long time since I sat down and just wrote a blog post and it feels so natural and easy that it kinda makes me wonder why I don't do it more often. But I also know that I don't want to come back, definitely not in the way I used to blog. I've thought about it, of course, but I never actually seriously considered it. Which says a lot, I think. However, that's not what this post is about.
I wanted to talk about some things, so I'm going to just combine everything here and probably ramble a lot but you should be used to that from me now.
How I am?
I'm doing really well. I'm graduating from my master's this summer and I've already done my master thesis (and I'm pretty sure I passed but I'll know for sure in a few days). Right now I'm in the final phase, which is an internship. I'm interning at this small company that develops AR software and I'm doing research on why people are resistant to implementing new technologies and why people do or do not buy their software. It sounds complicated but it's really interesting and I'm having a good time.
Beside that, I'm a bit stressed about The Future, if you know what I mean. As I'm graduating, I'm going to have to really be an adult and find a job and probably a new home and all that and I have basically no idea what I'm doing, so that's fun…
Before I forget, I want to HIGHLY encourage you to donate to the common bonds anthology if you haven't already. It's an anthology with aro and ace stories and poems and to make the stretch goal they need a little bit more money! That way they'll be able to give their writers a decent pay!
Readathons
Two readathons are taking place in April that I both want to take part in and I needed to make a TBR and I thought there was no way I was going to fit this all in a twitter thread so that was my main idea for writing a blog post. And then I thought, why not talk about everything else too?
UnsolvedAthon is taking place from April 1st until April 30th and it looks so amazing. Just check out the announcement post because I'm sure it'll impress you. And because Aspec April is taking place at the same time (first two weeks of April), I am combining both into a big readathon. I will be reading only books with aro-ace-spec characters in the entirety of April while also trying to do as many challenges from both readathons as possible (which is hard in case you were wondering).
UnsolvedAthon is based on the well-known Buzzfeed Unsolved series on youtube (if you like mystery or true-crime or paranormal, CHECK IT OUT). The goal of Unsolvedthon is to "solve" a case, and to do that you have to solve all 10 clues (in other words read 10 books). There are two paths you can follow: Ryan and Shane and for both paths there are different challenges. Check out this amazing game board they've designed!!
I have chosen for Ryan! Not only is he my favourite of the two but his challenges were also a little bit easier for me haha. All the challenges are related to episodes, and before I will go to my tbr, I need to talk more about Aspec April!
As said it takes place from April 1st until April 14, but because I didn't realize it was only two weeks and not the entire month (oops), I made my tbr for the entire month. And I didn't keep into account that you're supposed to read only ace books in the first week and aro books in the second soooo… I'm not exactly following the rules haha
A-spec April also comes with some challenges, which you can see below.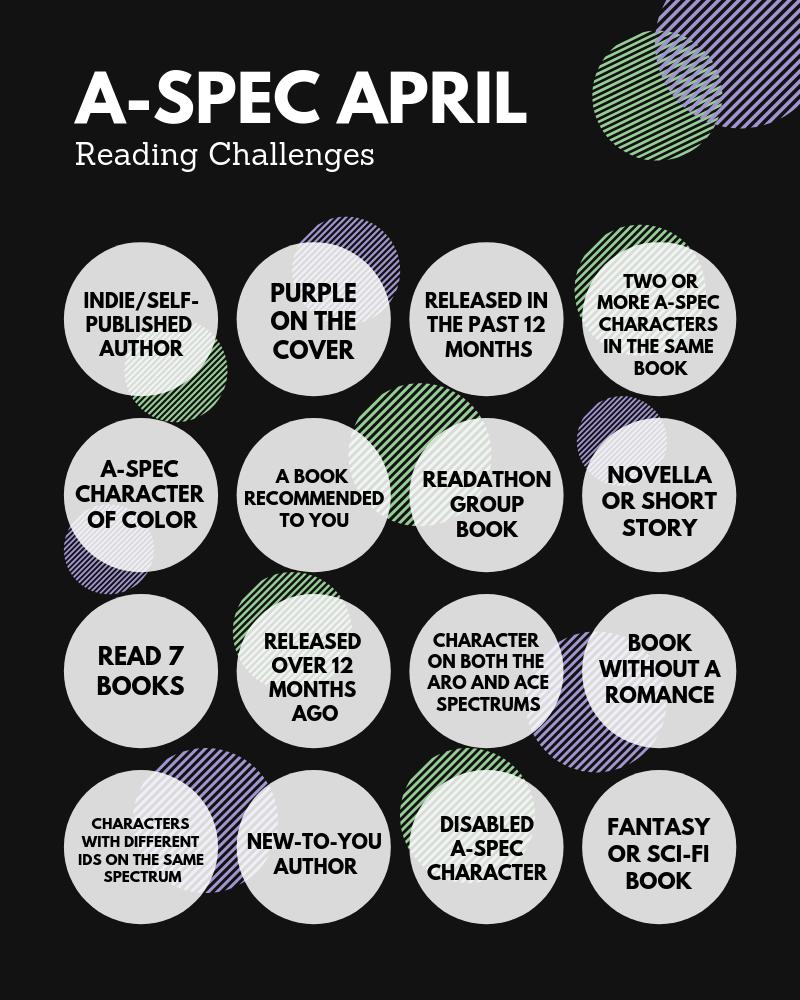 So without further ado, my tbr!
The Search for the Mysterious Mothman: Read a book about a mythical creature or a monster.
A-spec character of color
Sawkill Girls by Claire Legrand
I actually started this book before and then I realized it was fantasy and quit but I'm determined to give it another go and read it fully now. It's about these girls living on an island and girls go missing and there's some strange forest creature thing idk. It has a black asexual lead.
The Chilling Mystery of the Black Dahlia: Read a very well-known/famous book.
A book recommended to you
What If It's Us by Becky Albertalli and Adam Silvera
I have kinda been wanting to read this book but I also heard some mixed opinions. But then in my search for a "famous" book, I couldn't come up with any books that are more famous and have an a-spec character (except probably some high fantasy book that I definitely don't want to read). This book has, as I've heard, a demisexual side character
The Murders that Haunt the Lizzie Borden House: Read a book with an anti-hero or villain as the main character.
Character on both the aro and ace spectrum
Immoral Code by Lilian Clark
I have been wanting to read Immoral Code since I first heard about it. It's about this ragtag group of students who hack and one of them is aro-ace and I mean it's described as "Ocean's 8 meets The Breakfast Club" so there's no way I'm not reading it.
The Grisly Murders of Jack the Ripper: Read a book about a serial killer or a murderer.
Sawkill Girls by Claire Legrand
I am once again using this book because I don't think I'm going to be able to read 10 books in a single month.
Roswell's Bizarre UFO Crash: Read a book involving aliens or outer space.
Sci-fi or fantasy
One Giant Leap by Heather Kaczinski
This is the second book in a duology about an Indian-American teen competing to go to space. She's asexual/questioning. I actually already started this book but I haven't gotten too far, so I'm counting it.
The Enigmatic Death of the Isdal Woman: Read a book involving spies or espionage.
Readathon group read
The Spy with the Red Balloon by Katherine Locke
This is one of the group reads for the A-spec April readathon and I was actually already planning to read it before it was announced so that worked out great! I've been told it has an asexual main character and that it's about spies in WWII I believe. That's all I know.
The Haunting of Hannah Williams: Read a book involving ghosts or spirits.
Indie/self-published
An Unkindness of Ghosts by Rivers Solomon
I'm actually not even sure there's ghosts in this book, BUT it's in the title so that's good enough for me hahah
I honestly don't know much about this book except that it's about space..? It has an aro-ace side character though!
The Historic Disappearance of Louis Le Prince: Read an unknown book or a book that has less than 500 ratings on Goodreads.
Novella or short story
We Go Forward by Alison Evans
I have been wanting to read this novella for a long time but I never got around to it, and I saw that it was on Scribd now, so I thought, why not read it now? It's about a road trip, and one of the MCs is aro-ace.
The Haunted Town of Tombstone: Read a book about an outlaw/a group of outlaws.
I'm reusing Immoral Code for this one!
The Odd Vanishing of Amelia Earhart: Read a book with a female main character.
If I have time left to read another book, I got three options for this one If I was Your Girl by Meredith Russo, The Birds, The Bees, and You and Me by Olivia Hinebaugh and Let's Talk About Love by Claire Kann. And if I don't have time, I'll just let another book count for this challenge too. I do want to read all three of these books at some point though.

Art
Before I end this already way too long blog post, I want to talk a little about my art. As you might or might not know, back in December I started a 365 day art challenge together with the lovely Kate from All The Trinkets. We've challenged ourselves to draw every single day for a year and so far it's been really great. I've improved A LOT and gotten even more motivated to keep drawing, so I thought I'd give you a little overview of art I've made lately and if you're interested, you can follow my progress on my art instagram @lostinink_. You can also commission me to draw you something, for my prices check the art commission button on the menu above!
This slideshow requires JavaScript.
I hope you didn't miss me too much, and that you enjoyed this little return to blogging. This will probably not happen much so cherish it haha. Do you make art? Let me know so I can follow you! Also let me know if you're going to take part in one of the readathon so I can check out your tbrs 🙂